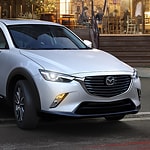 Roomy, high-tech, and handsome, the Mazda CX-3 ticks all of the boxes our Yorkville, NY Steet-Ponte Mazda team expects of a capable subcompact crossover. We also love this vehicle's safety features, features that make it an IIHS Top Safety Pick.
Smart Brake Support
Smart Brake Support engages automatically in certain scenarios at speeds over 10 mph. It works with a standard frontal collision warning system that detects and alerts you to potential collisions ahead of you. When reflexes prove slower than road conditions, the Mazda CX-3 applies full braking automatically, helping you and yours avoid catastrophe.
Rearview Camera
Finally, you have eyes in the back of your head. The Mazda CX-3's Rearview Camera gives you a clear picture of what's behind you as you back up. The camera feeds pristine images to a special monitor situated atop the dash or in-dash. This way, you can keep your entire body and your eyes facing forward while backing up with confidence and grace.