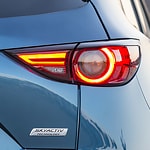 Music adds so much to everyday life. At Steet-Ponte Mazda, we want to help you enjoy this vital art form while you're on the road. The following technology features will help you listen to your favorite tunes while in a Mazda CX-5.
When you're driving through Yorkville, you don't want to be distracted by static and other signs of a flawed sound system. The CX-5 delivers state-of-the-art sound through premium Bose speakers. There is nothing compact about the lush, beautiful sound you can get in this compact SUV.
Sound quality is only one factor to consider. It would be best if you also had a range of music styles to suit your many moods. Mazda Connect integrates with Apple CarPlay and Android Auto to deliver all the tunes you want to hear while driving. You can make beautiful music in a Mazda CX-5.