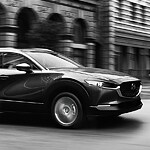 The Mazda CX-30 takes many great cues from its cousin, the Mazda3. It looks sharp, handles like a champ, boasts advanced safety and tech, and its performance sets new standards in the subcompact crossover SUV category. This popular SUV and its performance features are favorites of our Yorkville, NY Steet-Ponte Mazda team members. Take a look at the following performance features to see what we mean.
Race Car-Inspired Paddle Shifters
Paddle shifters are all the rage, and the Mazda CX-30 has them in spades. Mounted on the steering wheel for easy access, the shifters replace the classic manual stick, offering a tactile interface for shifting gears. However, the shifters correspond to an automatic transmission whose electronic controls ensure optimal gear ratios and smooth, lag-free shifts.
Big, Fat Alloy Wheels
Standard on the Mazda CX-30 is big, fat 18-inch alloy wheels. They epitomize the pure, refined elements of Mazda's "Kodo" design aesthetics. They're also very dashing and practical. Alloy wheels are as tough as steel but lighter in weight. This makes for more crisp cornering, quicker acceleration, and faster, more clean stopping.