Welcome to Steet-Ponte Mazda
Welcome to Steet Ponte Mazda! We are a family owned and operated Mazda dealership located in the heart of Central New York! The Steet Family has been in the Auto Industry since 1945 and we are now in our third generation of owner-operators in both the Steet and Ponte Families! Our goal is to provide a streamlined and convenient way to make the sales process enjoyable. Our website is a convenient place to get the information you're looking for, and to search our extensive and affordable selection of new and quality pre-owned Mazda vehicles.

Lead by our General Manager, Rick Zuccaro, we pride ourselves on customer service and making every transaction with our departments easy and enjoyable. When you shop or service with Steet Ponte Mazda, you'll enjoy an array of amenities unique to our dealership.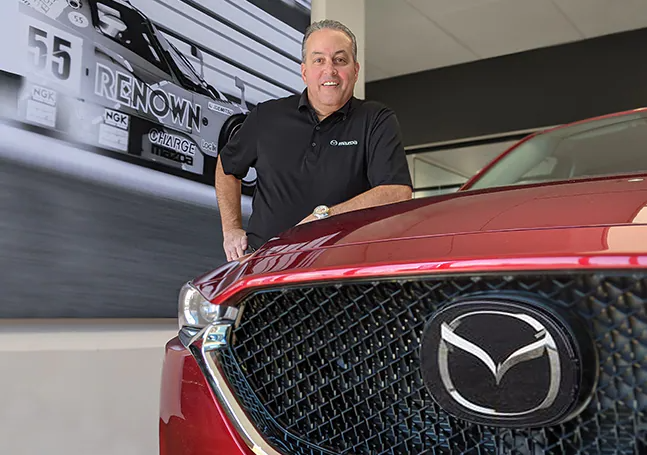 From the moment you walk in our door, we'll always treat you like family. Being a family run business, we know the importance of building a bond with our customers! As a customer of Steet Ponte Mazda, you'll receive many perks including:
New Car Selection: We have hundreds of new Mazda vehicles in stock. If we don't have what you're looking for, we will happily get what's on your wish list! Any color, trim level, seating options, you name it, we'll find it.
Easy Financing: Our experienced Finance Manager, Jim Spencer, has worked at our store since we opened our doors, he will work hard to get you the payment you're looking for and explain any products you are interested in.
Warranties: We offer a variety of warranty options from Extended Warranties to Wear & Tear, we've got many to choose from!
Used Car Selection: Our store is unique in that we offer not only the used cars on our lot, but if you see a vehicle at one of our sister stores, we will gladly facilitate that transaction!
Service Department: Our Service Department is your one-stop shop from oil changes to full on body repair with our Body Shop. Drive through our convenient service entrance and get a 5-star treatment for you AND your Mazda! From video explanations to our Steet Ponte Mazda Courtesy vehicle, we'll keep you going.
Parts Department: Our Parts Department has everything you need from rain guards to floor mats, keychains, and t-shirts! We also offer complimentary touch up paint with each new car purchase.
Amenities: Our waiting room is brand new along with our building. We offer complimentary WiFi, hot chocolate and coffees, large screen TV, comfortable armchairs and changing table in our facilities for the young ones!
Last but not least: when you shop at Steet Ponte Mazda, you're keeping your business local with a family-owned and operated business.