END OF LEASE OPTIONS
If the agreement for the vehicle you've been leasing from us is coming to an end, you'll have to give some thought to what you'd like to do going forward. We'll chat about your options below so you can see which route best suits your lifestyle. If you have any questions, please don't hesitate to contact us at Steet Ponte Mazda!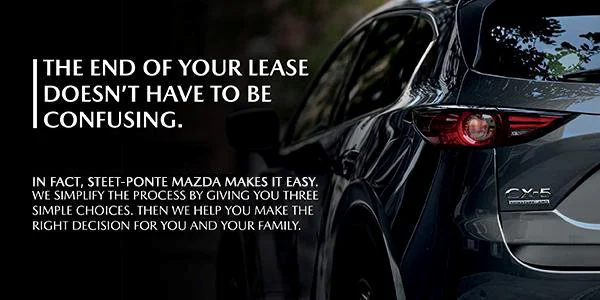 Option 1: Continue to Lease
One avenue individuals take when their current contract is coming to a close is to continue leasing. This allows you to stay on the cutting edge and try new models and segments. The great thing about this option is that your new lease picks up right where your last one ended. As before, you only need to cover the model's depreciation value and the car will be in your hands for up to four years. Our Finance Department will assist you with the terms and payment options so the keys can be yours today. If you absolutely love testing new vehicles frequently, we can even talk about leasing another model of ours before your contract expires.
Option 2: Purchase the Vehicle
A second option you might consider is to buy out the vehicle that you've been driving around. We know sometimes people fall in love with the automobile and its amenities and can't imagine handing the keys over. In this case, we can set you up with a financing plan that lets you chip away at the remainder of the balance. You also don't have to worry about a down payment and you'll start your monthly installments from where your lease left off. Once you've made the final contribution, the vehicle will be fully yours. A year or few down the road, you can choose to trade it in for a newer model or sell it to our dealership you choose.
Option 3: Hand Us the Keys and Walk Away
If your circumstances have changed and perhaps you've moved to a bigger city, you may no longer be in need of a vehicle. Perhaps you'll be utilizing public transportation or carpooling with your spouse. No matter the situation, we aren't going to pressure you to hang onto the automobile that you have been leasing. You can simply drive it back to us and our team will assist you with the final paperwork to close out your contract. Then, our mechanics will inspect the vehicle to see it's functioning smoothly and then we'll display it on our lot as a pre-owned option for prospective customers just like you.
Now that you're aware of your lease end options near Utica, NY, make your way over to Steet Ponte Mazda to meet with our team! We'd love to enroll you in a contract that aligns with your budgetary needs. Our dealership is located at 5065 Commercial Dr. in Yorkville, NY, and we look forward to your visit!